Tools come in an array of sizes, styles, and purposes. Choosing the right tool for the job is as important as planning your garden and deciding what to plant. After all, a well-designed tool can make your garden work go smoother and more efficiently.
Take some time to think about your tasks at hand. What chores do you see yourself doing? If you are gardening in raised beds a shovel may not be as high on your list. If you have a lot of fruit trees then pruners and loopers are needed.
Shopping For Tools
Shopping for tools, however, can be a nightmare. Shopping for tools is best as a hands-on endeavor. Picking them up and trying them out is important so that you can get the feel for them. Size and weight should be balanced and you should be able to move the tool easily in all directions without overextending your body.
You don't want a tool that is so heavy it puts a strain on your body. And if like me, you are shorter than average, you may have a harder time finding tools to fit your body so shop around. Cutting the tool shorter will change the balance point and may make it harder to use.
That said sometimes it is hard to find specialty tools in your area. Not to mention the time and energy it takes especially if you live in a rural area. I will admit to liking the advantages of online shopping.
I am going to make some recommendations for what tools I like but feel free to explore and find out your favorites. Leave me a comment if you have a perfect tool and Ill check it out.
Keep in mind that good tools will be appreciated by your family as well!
Specialty Tools Versus The Basics
Some people want to buy a lot of specialty tools but I prefer the basics. Getting good quality tools is important. Buy the best tool you can afford, especially if it will undergo continuous usage.
Tools with forged steel are of high quality and long-lasting. Check the handles and make sure they are securely attached. The least reliable handle is the socket handle where the handle slips into a metal sleeve. Sometimes they are held on with a rivet or screw. Check the security of the connection by applying pressure. The strongest handle is one that is forged to the tool head.
Basic Tools Every Gardener Should Have.
Trowel
A trowel is a gardener's best friend. This handy tool is used to dig small holes to transplant, dig out bigger weeds, and make a small seed row. Many trowels come with ergonomic and cushioned handles which is nice for prolonged use.
Trowels do come in different shapes and sizes. I admit to having several. My basic trowel is one my son bought me years ago for mother's day. The handle is somewhat worn but it is in great shape considering the abuse it gets.
My other trowel has a pointed tip and indented sides. Sometimes you will see these called transplanting trowels. This one is great for digging a line, taking a soil sample or trying to extract dandelion weeds.
Shovels
Shovels are very handy and are used for digging and moving loose materials. You can get shovels with a pointed, rounded, or flat edge. The most important part of the shovel is where the shovel and handle are connected. Make sure this is a strong bonded connection. Using a shovel naturally exerts a lot of pressure on this point.
I use my rounded shovel to dig holes of all sorts for planting. It works well for getting into the soil and then lifting up. It is especially useful for planting trees and other perennials where a larger rounded hole is needed.
Fiskars is known for scissors but they make great tools as well. I like the ones with the handle on top because it gives me some leverage when digging!
A flat shovel is good for making smooth sides on a hole, removing sod, and flipping dirt over. A flat shovel is also great for scooping up and moving piles of compost or gravel.
Look for shovels that have a flat ledge at the top of the metal. This will give you a place to set your foot to provide that extra oomph when digging.
Spade Fork
The Spade Fork has long flat tines and is used for digging. It works well for digging up clumps of perennial weeds and for dividing perennial flowers. It also is useful for digging and turning garden soil and harvesting root crops and potatoes. This tool can also be used to aerate and loosen the soil.
Broadfork
If you want to get serious or fancy the broadfork is a great tool. Lehman's has a fabulous broadfork. If you have not checked out Lehman's Hardware click on the link for their website. It is one of my favorite stores and much of my off-grid appliances and gardening tools come from there.
Pitchfork
A pitchfork has long thin tines and is good for moving straw and hay around the garden. If you have livestock you are familiar with this tool. I use my pitchfork to clean stalls, move the manure bedding to compost and later to move compost to the gardens.
Hoes
Hoes are a gardener's friend. There are many types of hoes.
The basic hoe has the typical flat edge. It is useful for chopping weeds and pulling dirt up to mound around plants. Hilling potatoes work well with this style hoe.
A Warren Hoe has a pointed end and is great for making furrows and getting weeds in corners or working closely to established plants.
A shuffle hoe has a movable blade that shuffles back and forth over the ground and is best for small weeds. It cuts just below the surface cutting off small young weeds. I have a shuffle hoe but I don't always use it to my advantage. One of my favorite authors, Eliot Coleman, swears by them. However, you have to catch the weeds early and stay on top of them for this to work. That is my downside.
Rake
There are two basic rakes. A leaf rake with tines in a fan shape and a bow rake designed to move heavier items.
It is getting harder and harder to find a good rake. So many of the leaf style rakes are being made with plastic tines. Avoid them at all cost. They are worthless.
A good leaf rake has metal tines. This makes it good for raking leaves as well as smoothing over garden beds and raking up bedding in the barn.
A metal rake is good for raking up plant waste and rocks, chopping up soil clods and making raised beds in the garden. I am very hard on rakes. It's important to make sure the handle and rake are mounted together securely. Here is where forged steel makes a big difference.
Pruners and Loppers
A good set of hand pruners are necessary if you have small fruits or flowers for trimming back small branches, deadheading, or harvesting. Pruners come in two styles. The anvil and the bypass.
The bypass style has curved blades and makes a nice clean cut while pruning. They are easier to maneuver when in those tight spots.
The anvil style is not as popular with gardeners because the two blades meet in the middle. So not as good for making a cut right next to a stem or branch.
If you have fruit trees you will need to invest in a good set of loppers for the bigger branches. Loppers are a larger bypass pruner that allows you to exert more pressure and can cut branches up to 2" thick.
A couple of years ago I was frustrated with cheaper loppers and decided to take the plunge into something a bit better. Since my fruit trees were growing and needing more attention I decided to splurge on these Tabor loppers. I have been very happy with them and they have held up well to my abuse.
Wheelbarrow or Wagon
A wheelbarrow is indispensable, even if you own a tractor. With a wheelbarrow, you can move materials around the garden. I move compost to the garden and take debris back to the compost pile with mine. I like Tractor Supply wheelbarrows because they are made for farm work and can hold a lot of stuff.
Wheelbarrows come in a dazzling amount of sizes and styles. The traditional wheelbarrow has one wheel in front. But I like the style with two front wheels as they are easier to balance while maneuvering.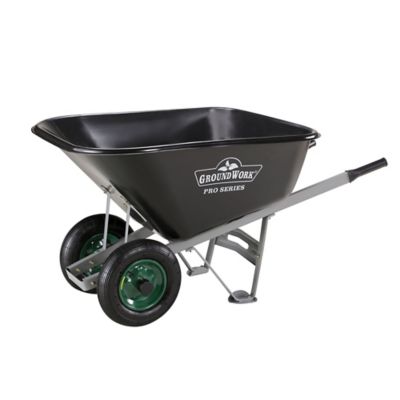 GroundWork Pro Poly Wheelbarrow; 10 cu. ft...
in stock [More]
Wagons fall under this category as well. I love my wagon! It holds a large amount and has a dump feature. I have over time replaced the pneumatic wheels which did not hold up with solid wheels. These do way better as I pull it over uneven ground and on a gravel driveway.
Affiliate Information
As an Affiliate Associate with select sites, Fox Run Environmental Education Center may earn fees from qualifying purchases. We only refer to products that we have used and will use again. As a non-profit 100% of monies earned goes into our education and wildlife rehabilitation programs. There is no extra cost to you! Just enter the site via our recommendation and purchase whatever it is you want.
Author, Ame Vanorio is a former teacher and director of Fox Run Environmental Education Center. She teaches classes locally and online about organic gardening, green building, living off-grid and wildlife conservation. Ame is a licensed wildlife rehabilitator. In addition, she is a freelance writer and writes for several gardening, tiny house and pet websites. She lives off-grid on her Kentucky farm with a myriad of domestic and wild animals.